Epoxy & polished concrete flooring in tampa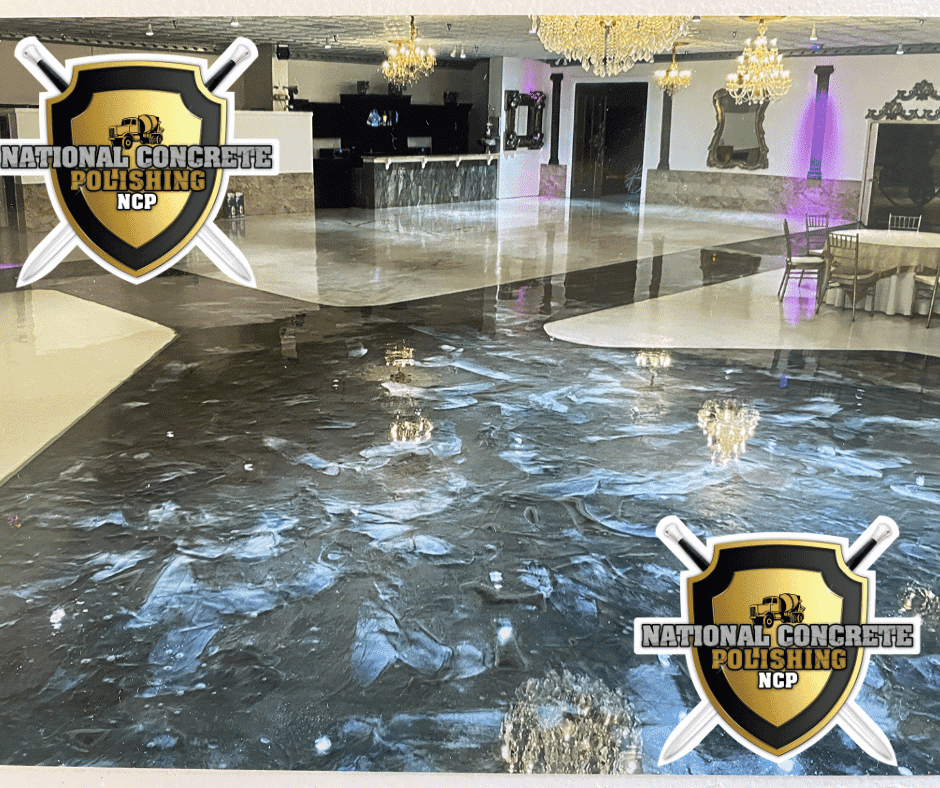 Fast Installation Process
State Of The Art Machines
"Floors For Life" In Tampa
National Concrete Polishing is a professional epoxy flooring & polished concrete company servicing Tampa. We specialize in full-service floor contracting including concrete grinding, polishing, epoxy coatings, concrete resurfacing, repair, and decorative concrete applications. We provide state of the art flooring solutions for industrial and commercial application as well as residential homes. We service Tampa faithfully including the entire surrounding area. Concrete floors are a great option for commercial, industrial, and residential settings which makes concrete extremely versatile as an option for flooring. Concrete is durable and displays a simplistic beauty to complement any atmosphere. Ask our experts at Tampa Concrete and Epoxy Flooring Contractor how we can transform your concrete surfaces into a beautiful masterpiece.
Our Floor Coating Work In Tampa Speaks For Itself
Watch Videos Of Our Epoxy & Polished Concrete Installation Process
Contact us Today
To Receive Best In Class Floor Coating Solutions From A Nationally Recognized Epoxy Floor Coating Installer
Award Winning Concrete Polishing Company In Tampa
Polished concrete is the most cutting-edge, cost-effective flooring solution today and has substantially exceeded in the flooring industry over the years due to the multitude of benefits it offers clients. If you're seeking a natural-looking, economical, remarkably hard surface that requires minimal maintenance, then polished concrete is the perfect flooring solution for you. Polished concrete is one of our most prominent flooring methods, by using grinding and polishing machines that utilizes diamond-impregnated tools to grind away imperfections on the concrete, we then apply protective sealers and concrete hardening agents to assist in sealing and preserving the slab and yielding a magnificent and solid foundation. Tampa Concrete and Epoxy Flooring integrates the finest and safest technological advancements in our project, enabling us to provide you with a durable, preserved and sustainable result so schedule an appointment to visit our showroom today or give us a call with any further questions regarding your project needs or concerns you may have about your floor's current condition.
Concrete Polishing Specialties For Tampa Homes and Businesses
Concrete Grinding
Polished Concrete
Concrete Repair
Concrete Resurfacing
Dyes & Stains
Logo & Floor Decal Applications
State of The Art Epoxy Floor Installation In Tampa
We offer our customers 100% solids, VOC compliant, seamless epoxy floor finishes that are designed for high performance, industrial settings including warehouses, garages, retail spaces, commercial kitchens and much more. These flooring solutions are specifically created to withstand constant wear and tear due to heavy traffic, exposure to chemicals, and moisture risks which assures that every customer receives a reliable, yet beautiful floor finish that's made to perform. Our installers are seasoned and qualified to understand the elements of each unique system available to the client to ensure that they're acquiring the proper coating application for their precise project requirements. The professionals at National Concrete Polishing in Tampa are here to guide you with all of your epoxy flooring and polished concrete coating needs.
Epoxy Coating Services For Tampa
Same Day Epoxy Garage System
Metallic Epoxy Coatings
Solid Color Epoxy Coatings
Glitter Coatings
UV Stable Topcoats
Counter & Bar Top Coatings
Commercial Epoxy Floor Installation
FAQs About Epoxy & Polished Concrete In Tampa, Sarasota and Bradenton FL
What is epoxy flooring?
Epoxy flooring is a durable, versatile, and long-lasting flooring solution created by applying a mixture of epoxy resin and hardener over a concrete surface. This creates a strong, seamless, and chemical-resistant surface suitable for a wide range of applications, including residential, commercial, and industrial settings.
What is polished concrete?
Polished concrete is a process where a concrete floor is ground, honed, and polished using progressively finer diamond abrasives. This results in a smooth, reflective, and low-maintenance surface that is suitable for various applications such as residential, commercial, and industrial spaces.
What are the benefits of epoxy flooring?
Epoxy flooring offers numerous benefits, including:
High durability and long-lasting performance
Excellent chemical and stain resistance
Enhanced safety with slip-resistant options
Easy maintenance and cleaning
A wide range of customizable design options
What is your process for epoxy garage floors in Tampa, Sarasota and Bradenton Fl?
Tampa gets very hot. Especially in the summer. As a result, it's easy for the epoxy to come up when "hot tires" drive over the garage floor. To mitigate this risk, we first grind the concrete, then we apply the base coat of epoxy followed by broadcasting flake into the epoxy. Following that we apply a final top coat of polyaspartic which is a clear substance that is extremely hard and enables the floor to last for centuries.
Do you offer a waranty?
Yes, we offer a warranty on all of our floors. The warranty is based on the type of floor we are installing and the condition of the existing concrete. Call us for more details!
What is your service area?
We serve Tampa, St Pete, Bradenton and Sarasota as well as all surrounding areas. Contact us today at (941) 909-2785
Floor Cleaning & Resurfacing
Concrete Polishing and Epoxy Floor Maintenance
Concrete Floor Maintenance
Request a Free Estimate
Get A No Obligation Free Quote
Fill out this form and our team will get back with you shortly.
"*" indicates required fields
The contact information you provide will be used solely to confirm your request and send a free estimate. Submitting this form means that we are allowed to contact you through telephone, text message, or email about your request. This is not a legal agreement to buy our products.
Why Choose National Concrete Polishing in Tampa
The NCP team prides itself on providing our customers with superior customer service. The satisfaction of our customers is our ultimate goal. Whether you want to resurface your pool deck, finish your concrete driveway, or install an epoxy flooring system in your basement; our team will make sure that your vision is met with the final outcome.
When you are looking for concrete finishing work, look no further than the team at National Concrete Polishing. We have been working in the construction and flooring industries for decades.